SUPERVIVENCIA Y PRÁCTICAS DISCURSIVAS
El discurso político de tres lideresas populares
Alejandra Rangel Hinojosa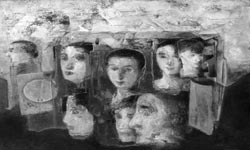 Este estudio tiene como objetivo el análisis del discurso político de tres lideresas involucradas en los movimientos populares urbanos. Se realizó de acuerdo con los postulados de la Escuela Francesa, cuyas características generales responden a una perspectiva interdisciplinaria, gracias a la cual se integran modelos procedentes de diversas tendencias, entre otras la pragmalingüística, la semiótica, los estudios de la relación del discurso con la ideología y el poder, la teoría de la enunciación y los enfoques de la argumentación desde la nueva retórica y la lógica natural. Esto es, una perspectiva amplia de su campo de estudio que abarca todo tipo de discurso –oral y escrito– y adopta la teoría marxista para la explicación del funcionamiento de las condiciones de producción y recepción del discurso.
SURVIVAL AND SPEECH PRACTICES
The political discourse of three popular female leaders
Alejandra Rangel Hinojosa
The purpose of this study is to analyze the political discourse of three female leaders involved in popular urban movements. It was done pursuant to the postulates of the French School, which in general feature a response to an inter-disciplinary outlook that allows for the integration of models from diverse trends, such as: paralinguistic, semiotic, studies of the relation between the discourse and power, the theory of oral delivery, and approaches of argumentation from the standpoint of the new rhetoric and common logic. That is, a wide perspective of this field of study that embraces every type of discourse –oral and written– and adopts the Marxist theory to explain how the conditions prevailing in speech production and reception work.